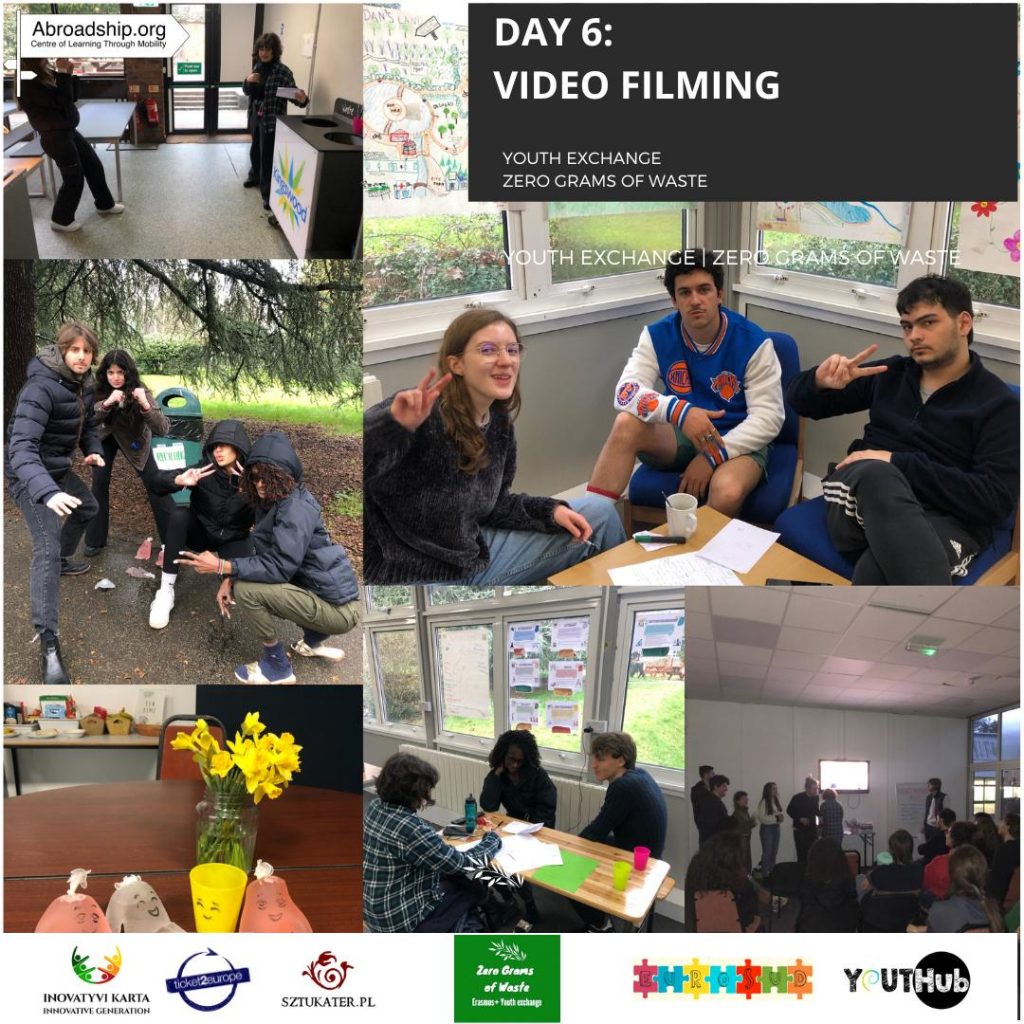 Zero Grams of Waste challenge is a youth exchange to exchange ideas and empower ourselves on how to become zero waste every step of the way
Raise awareness about ZGW – 5 Rs philosophy and circular economy
Support a ZGW lifestyle and exchange ideas of how to minimize waste, how to reduce, reuse, recycle, rot and refuse the 5 Rs of ZGW
Support the participants to take action and become Zero Grams of Wasters
To live in a sustainable community and try to minimize waste in practice for 8 days
Develop new skills and competences through non-formal learning and informal: creative workshops, workshops, open discussions.
Develop knowledge, skills and attitudes to be the change agents in our everyday life and in our communities
Create a mini workshop, role playing or any creative presentation of one of the 5 Rs
To create videos to disseminate the results of the project
37 participants from UK, Greece, Italy, Lithuania, Spain, Poland, Bulgaria gathered in Zero Grams of Waste challenge in Kennington, United Kingdom.
Introduction
We are 37 people arriving to United Kingdom from all over the World.
We are ready to have a great time and create the best memories.
Today was day 1 and we play a lot of introduction games to get to know each other and come closer to the subject of zero waste.
Day 2 Permaculture
Permaculture is like a clock, mess one thing and it won't work!!
Day 3 Board Games
Board games creation
Today we created our own board games based on the principles and the ethics of permaculture. Why? Why not!
Day 4 Cantebury
Today we visited Canterbury – one of the historically significant places in England where we had the opportunity to interact with the locals about zero waste. Later on the other groups went to Margate as well. 🦢
Day 5 Debate and Creation
To start the day off well we did yoga and then we had a debate between a logging company managers, the Activist and the local community to set up a wood factory in the village, all of this supervised by 4 judges.
After lunch we made soap, soap bombs and scrubs. To finish the activities we recycled some tin cans to use them as flower pots and planted flowers.
Day 6 Video
Today we started the day with stretching and energiser and we have been given the task to film a video on different problems in Kingswood regarding our project topic. We had the whole day to record and edit the footage using our creative team-work ideas. In the late afternoon we presented all of our videos and previous tasks as well.
Day 7 Conclusion
We started the day with two energizers. Following that, we tackled the tasks involved in the 'Mission Impossible' activity. Later in the afternoon, we watched a video and engaged in a discussion about dissemination. Finally, we shared our personal reflections and provided feedback about our experiences during these days.