---
Organizations that support young people in gaining experience in project implementation encounter situations that young people have prepared a project that is approved and then the big question "What's next?" comes. Young people want to organize projects but they significantly lack the knowledge, understanding and competences how to implement the approved projects. It also often happens that participants return from mobility projects and indicate that the quality of the project they had participated in has not been the best. The overall goal of the project is to develop the quality of Erasmus+: Youth in Action project implementation, providing an opportunity for newcomers in the field of projects to acquire project implementation competences in a modern way, thus increasing youth participation and supporting more active involvement in youth projects.
By the end of the project, newcomers will have FOUR types of material to gain knowledge from, learn and use before and while implementing their projects: Research, Interactive platform, Handbook and Educational game
The project is expected to have a positive and lasting impact both on the organizations involved and on the quality (will be improved) of the implemented E + projects in general.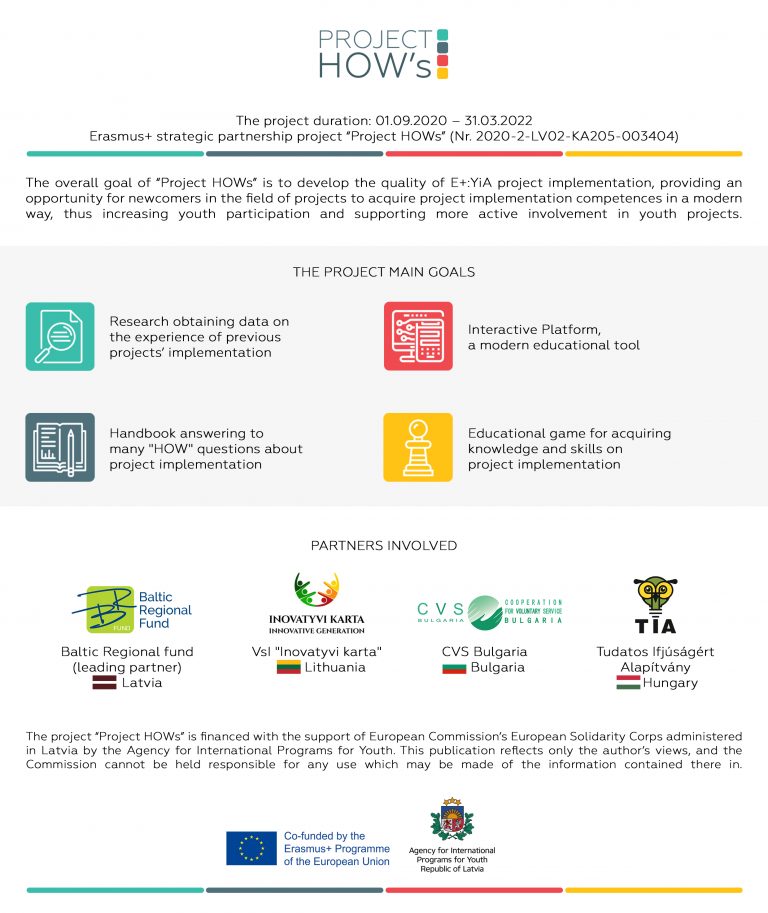 To develop new innovative solutions for the acquisition of project implementation competences in order to increase the overall quality of youth project realization and ensure the sustainability of organizations;

To promote the improvement of the quality of youth work in general by promoting more active involvement and participation of young people in organizations and their project

implementation processes.
The main innovative result of the project will be an INTERACTIVE PLATFORM, which will not only provide a modern educational tool according to the individual needs of learners, but will also have an inclusive approach, providing learning opportunities according to participants' individual abilities, speed, etc. factors. The platform will use state-of-the-art ICT tools and integrate innovative gaming approaches. Project implementation will not only ensure that project managers and coordinators can acquire knowledge and develop skills about project implementation in a modern way, but will also develop other 21st century useful competencies, incl. improving initiative and entrepreneurship, learning digital skills, more active participation in society and a more positive attitude towards European project opportunities, EU values, etc.
Carry research

in each partner country to obtain data on the experience of previous projects.

Develop an Interactive Platform –

a modern and educational learning tool that will include appropriate and professional IT solutions and will consist of:

Intuitive pixel-perfect graphic design development

Mobile websites for mobile devices

Mobile application development using hybrid technology and providing it to both Android and iOS users

Convenient and intuitive administrative environment for easy management of content, users, campaigns, information and other aspects

The platform will include both general information about the project and other intellectual results developed during the project, however, the main emphasis will be on the interactive part that will be connected to the mobile application and will provide:

acquisition of knowledge on specific topics (e.g. project cycle, content, learning and competences, etc.);

practicing the topic through various tasks, tests, which will also include elements of play, such as challenges, tasks, tokens will be awarded, points accumulated, levels reached, etc.;
testing of knowledge by completing tests, performing self-assessments;
compatibility with a mobile application that will perform various given tasks;
connection with social networks;
chat function;
a hot questions section where learners can ask questions and earn points, etc. functions.
Develop a Handbook

that will include answers to many "HOW" questions about project implementation.

Develop an educational game

for acquiring knowledge and skills on project implementation;

Translate

the Research, Handbook and game into all partner languages.

Produce

Manuals and game materials (50 pcs) for each partner.
IMPLEMENTATION of the project will include:
Implementation, monitoring and evaluation of the project.

Organization of 3 international meetings.

Implementation of a Learning Mobility.

Organization of dissemination activities and conferences.

Publicity and dissemination of project results.
The project duration is 19 months, from 1.09.2020 till 31.03.2022. Organizations from 4 countries – Baltic Regional fund (Latvia), VsI "Inovatyvi karta" (Lithuania), Tudatos Ifjúságért Alapítvány (Hungary) and CVS-Bulgaria (Bulgaria), are involved in the implementation. Several target groups will be involved in the implementation of the project – both young people and users of the platform – newcomers to the project, as well as organizations and their representatives. More than 370 people are expected to be directly involved in the various activities of the project, while the number of indirect participants will be much larger, which will include other employees/volunteers of the organizations, other organizations and potential members of the target group, etc.
The project is expected to have a positive and lasting impact both on the organizations involved and on the quality (will be improved) of the implemented E + projects in general.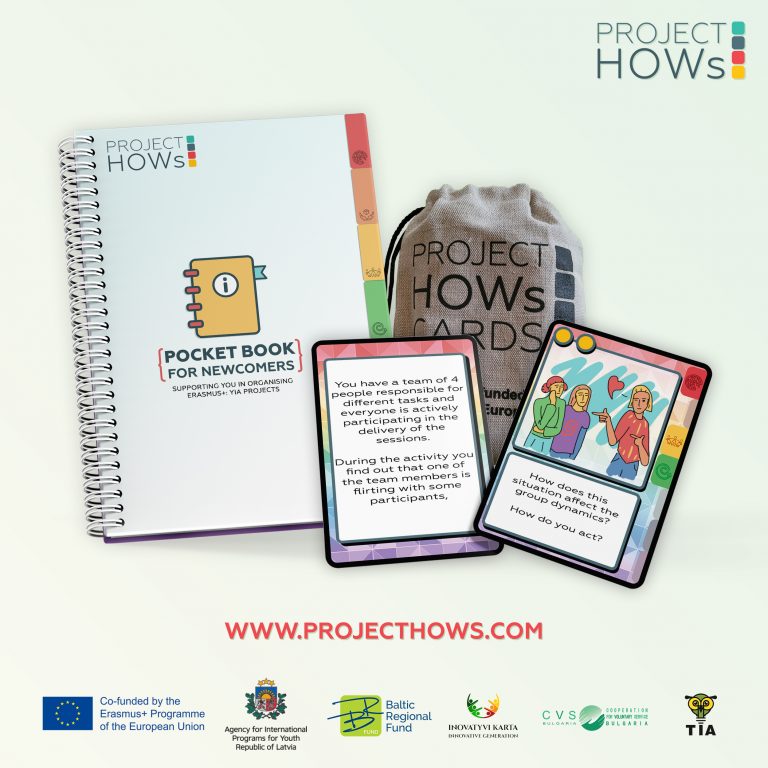 Useful materials have been created for Erasmus+: Youth in Action mobility project implementerswithin the framework of Erasmus+ strategic partnership project "Project HOWs".Partners from 4 countries...