30 October – 5 November, 2022
Trakai, Lithuania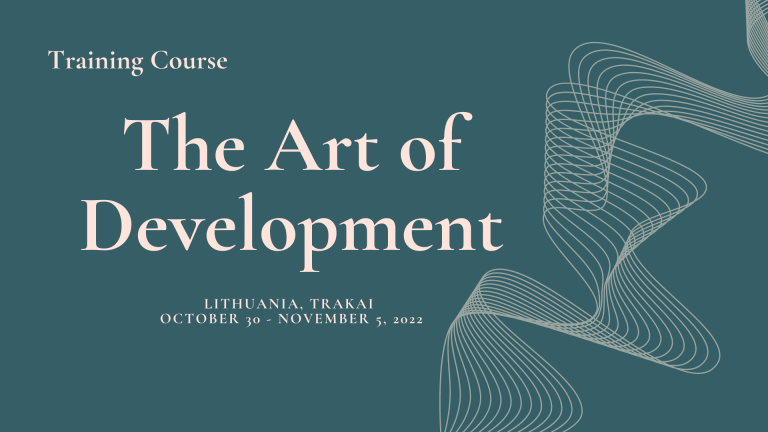 We want to improve the quality of life: using body movement as a tool for personal development and using the benefits of coaching to reflect, absorb and purify the information.
This training is for you if you want to:
Experience self-development through body movement
Learn how to use coaching methods for the reflection
Develop professional skills as a youth worker and increase your efficiency, using body movement art and theater
What you will get from this training:
Tools for personal and professional development
understanding how you can use embodiment and body movement for self- development
tools and knowledge on how to use coaching in your daily life and while working with other
people
heart and head – holistic approach (skills, knowledge and
attitudes)
safety and trust (trust in the place, methods and group / values- based)
communication and mutual understanding (open mind)
responsibility for one's own choice (participation)
inter-activeness
learner-centered
learning from experience (practical and emotional)
account of individual and group learning (using the group as a resource)
motivation
personal contributions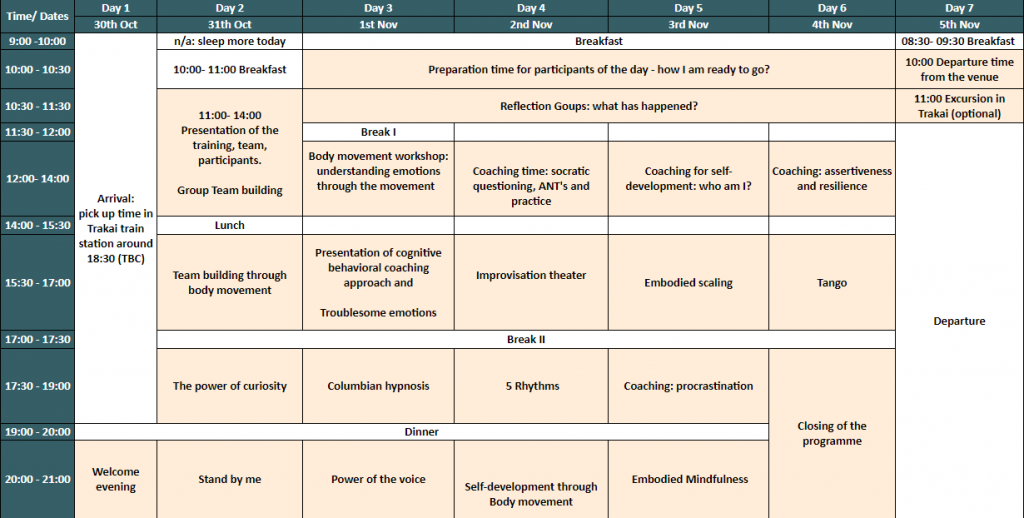 Important note: the programme may be changed to better ensure the best learning process and outcome!
We're looking for participants with the following requirements:
You have to be 18+
You want to learn more about embodiment and body movement techniques 
You want to develop your coaching skills and understanding in the topic
If it will be required by the time of the training course, you can present a valid certificate of Covid-19 vaccination (or certificate of recovery)
*Discounted price: if you come from the same organization or same family (for 2 and more people), or you are unemployed and can prove it, participation fee would be 399 EUR per person.

**The costs cover all expenses for Training costs, meals (3 full meals + 2 coffee-times per day) and Accomodation.
Please note that you need to arrange your travel tickets to and from the venue by your own. We will pick you up from Trakai and bring to the venue.
It is advisable to land in Vilnius or Kaunas (biggest cities in Lithuania) and travel to Trakai train station.
A group pick-up from the Trakai train station will be organized in the evening of the Arrival day (30 October). Please note that you have to arrive to the training course venue before 19.00 on arrival day.
Few kilometers from the city of Trakai
2-3 people per room
Towels, hairdryer, bathroom (for each room)
Working spaces
Sauna
3 main meals and 2 coffee breaks a day (please inform us about any special needs regarding the food!)