Youth exchange
4 – 13 October, 2022
Lioni (Avellino, Naples), Italy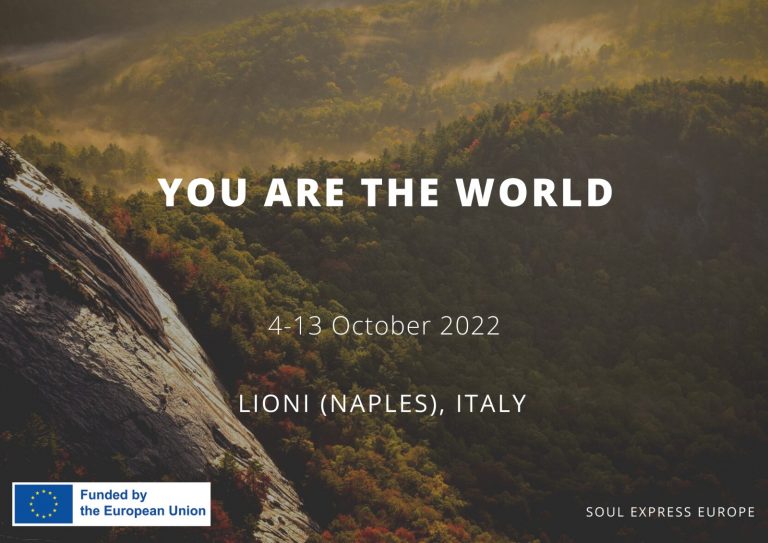 Goals of the youth exchange
"You were born with potential
You were born with goodness and trust
You were born with ideals and dreams
You were born with greatness
You were born with wings
You are not meant for crawling, so don't
You have wings
Learn to use them and fly"
Rumi
Rumi
"We are the world
We are the children
We are the ones who make a brighter day, so let's start giving
There's a choice we're making
We're saving our own lives
It's true we'll make a better day, just you and me"
We are the world
Rumi
Goals of the project:
Improve dialogue between different cultures, religions, promote diversity, foster inclusion of youth

Enhance critical thinking of youngsters which would lead to proactiveness and sense of initiative
Understand what a stereotype is and overcome it with critical thinking
Rise awareness about the discrimination, tackling the issue of IDP's and refugees, understand its roots
Become culturally competent and understand the components of diversity
Understand coaching approach, be able to use it in the daily life to enhance critical thinking skills and take control for own actions and thoughts
To improve sense of initiative through inclusion of youngsters to daily life activities such as cooking, cleaning, organizing free time space in evenings, leading various sessions and workshops
We're looking for participants with the following requirements:
You are 18+
You are from (or living in) Italy, Spain, Lithuania, Latvia, UK, Norway
You want to be proactive and learn how to be an active citizen of Europe
You want to develop your coaching skills and understanding in the topic
If it will be required by the time of the training course, you can present a valid certificate of Covid-19 vaccination, recovery or green pass
All the costs regarding food, venue and materials are completely funded by Erasmus+.
Travel costs are also covered by Erasmus+, depending on the country you will be representing.
Maximum amount of travel reimbursement:
Lithuania – €275
Latvia – €275
UK – €275
Spain – €275
Norway – €360
Italy – €20
You will be required to buy travel tickets before coming to the project and you will be reimbursed before the end of the project (December 2022).
Transportation to/from the venue will be provided from the organization from Rome and Naples airports.

A group bus will depart from Rome and Naples gathering points to gather participants in the evening of the Arrival day (4 October).

You just need to book your flights to arrive in Italy during the arrival day. More information will be given to selected participants after the selection phase.
Few kilometers from the city of Avellino (Naples)
4-6 people per room
Each room has its own bathroom
2 big working spaces, indoor and outdoor
3 main meals and 2 coffee breaks a day